This is a review of the Revell 1971 Plymouth GTX Kit#7608
This car has a story inside a story and it is a doozy. My son Aaron, who was born at just 2 pounds 18 years ago, was in an incubator for 46 days. It was a traumatic experience for my wife and I and is one we hope doctors will find a solution to for others. While there, I gave him a small Johnny Lightning car of a 1971 Plymouth GTX. It wasn't anything special (as far as the car was concerned), I just wanted to give my new son something as soon as I could… just in case of the unspeakable. Suffice to say, he did very well in the wonderful WVU NICU and came home about the same time as his due date. He has had no real problems since and is now ready for college. I have since wanted to do a homage to the car in the bottle… so to speak… and this is it.
The above Revell kits have very little different and all come with the same decals sets. I think the only thing different is that the Revell Muscle has a few extras in it and the kit to the left is molded in yellow. All of these will give a sweet build though, and all should be around the same price. The two below are kind of evil stepchildren. The GTX is made by MPC – so not as good quality as the Revell kits – AND it is as rare as a rainbow-farting unicorn. The Satellite is a REALLY nice substitute for the GTX and has the sporty molded hood with the slots for engine numbers. It is molded in a horrifyingly cheap, black plastic and it is usually beyond expensive, but a nice kit/car nonetheless.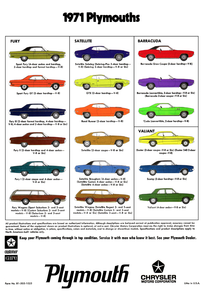 CAR BACKGROUND :: The 1971 GTX was an all new body from the very "rectangle" one from 1970 and there is a lot of discussion as to whether it is even remotely attractive. I happen to like the 1971-1974 Satellites and think that they are underrated muscle cars. The 1971 was the last high-power 440 GTX you could get – with the 6-pack thumping to the tune of 385hp. And like the others in the Mopar stable, the color selections were as vivid as a gay pride march. Not that colors mattered on the dragstrip. Punch the accelerator and this beast would rocket to 104 mph in under 14 seconds. Between the heavy growl of the 440 (which I know and love) and the intimidating ram air scoop rising up to inhale gobs of air, you'd be in heaven rocketing down the ¼mile everytime!
So.. obviously I had to go with the Hemi Orange that the toy car was. This paint job was more involved than typical, however. I started with a base coat of Flaming Orange and then topped it off with the Hemi Orange after the first coat dried. It made for a super glossy finish. I decided to not use the huge Plymouth decals for the rear quarters (as like the toy) because these GTXs didn't come with them. I also like to save them for any Mopars that could use some sprucing up.. and this one doesn't need it.
I've said it many times – my photography skills are GARBAGE! Trust me when I say that the black interior looks really nice with the wood moldings. This Revell is another quality one and comes with everything you'd need.
This engine bay looks like most of the Revell Mopars and that is a very positive thing. This was one I was going to potentially swap in a Hemi, but I decided to throw that into the Superbird instead and keep this one a 440-6. Can't say that I'm regretting it either. Only thing I added here is a wiper motor to help the barren firewall, otherwise it is nice as is. Seems I forgot to paint the cowl drains in front of the windshield, but I'll get it later.
I had fun with the bottom of this one and it helps that it is easy to work with . Everything fits well and there is little to have to add/fix. Only thing I did was add some GTX-style red-lined chrome tips at the back. These were prevalent on them and I love the look – especially with a red/orange car. I used the stock sport rims and gave it a turbo muffler look, but otherwise left the rest as is.
I can say that for all the reissues there were for these kits, they've still gotten super scarce. That, and the good build quality of this kit makes for an expensive purchase – usually upwards of $30+. It is also a good investment as the prices are just going upward day by day. Beyond that, however, this is a heck of a kit and a sweet car to display. Forget the shelf and put her to good use!
9.25 Excellent