This is a review of the AMT 1967 Pontiac GTO Kit#38058
This kit is actually many years in the making. I had tried a build of this car a long while ago and I had run into so many issues, I just threw it away. This could be the WORST kit AMT ever issued. There is so much wrong that I will be delving ad-nauseum into its horrors. The worst part is – it IS a beautiful car and one that deserves better. Here we go….
How so many kits could be spawned from such a terrible molding, I cannot imagine. The above kits are all of the same horrifying design and only in minute ways are they worse than each other. Like the XXX version has a goofy-ass hood scoop, and the one on the bottom left is molded in a despicable blue. Each kit comes with some "street" add-ons, but nothing otherworldly. There is a supercharger you can throw on, but it is small and the chrome is lousy. You can jack-up the rear some, add giant headers and side exhaust, roll cage and rims, but in the end, you will still have a model kit from the pit of hell.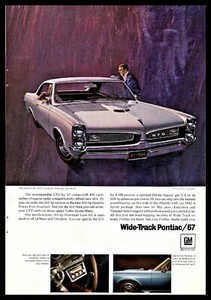 CAR BACKGROUND :: Call it a GOAT or a tiger… just don't call it a Tempest. The GTO name, now its own model, carried a big stick in 1967 and that could be made into a "club" by the boys at Bobcat. Either way, the new 400ci was a real treat – to the tune of 360hp with the ram air package. In the hand of the Bobcat boys, this car ran some of the quickest quarters of the period. But, low 13s in the quarter were only part of the equation. The car sold like there was no tomorrow and is considered to be the best selling muscle car ever produced. All of the above was beside the point. What you had was one of the sharpest, quickest muscle cars they made, PERIOD. Go tiger!!
Honestly…. the car came out better than I expected, but not for the effort and cost involved. The car stated out Tamiya Mica Blue, but was changed to Testors Diamond Dust for many reasons (more later). It works, but barely. I really wanted to make this one because it is such commonplace at all the car shows. I had wished it a quality fit to the car's greatness… and it just wasn't. So what's wrong? Where to start?…
The front bumper/grille combo fits as good as a speedo on a sumo wrestler. The top doesn't match AT ALL and is only barely acceptable after much bending and trimming. I'm not kidding when I say it is completely flawed. The quality of the chrome is hit and miss as well. The one pictured here is terrible but thankfully I had a spare. And PLEASE tell me why we have to have a "1967" the size of an engine block on the front of this beautiful car??
The rear of the car is just disgusting. First off, the light slots are too big. I've done some proportion measuring and these slits are nowhere close to the right size. Add to that, they are supposed to be chromed around the insides ONLY. VERY tough to fool with. The PONTIAC writing wasn't on the GTO's rear valance either. I've scoured the internet and only the Tempest seems to have it AND its letters are smaller. There is also no lip chrome (where I added it) so it is tough to get it right as well. All in all the silver helps, but still a sad facsimile.
Thennnn there is the rocker and radiator. The radiator is nothing more than the horrible cross-support that a bunch of AMT kits have. They look FAKE. I cannot believe that AMT's idea for a radiator support is a smooth piece of plastic. Worse still, there are two huge holes in it where the older screw kits would have inserted. The rocker has a VERY light line where it is supposed to be chrome. You can either use foil… which I hate, or paint it… which looks terrible. There is a LOT of chrome to have to do here and it is an unfortunate setup.
There is more, but I'll tackle it one at a time…
This IS THE one bright spot to the whole kit. The interior is actually pretty detailed and it has everything needed. The rear-view mirror is crap and the headrests are terribly made, but the rest can actually look proper when done. I used wood accents to spice it up and the dash is a well designed one with a lot of things to paint up. I've seen two-tone interiors that look even better, but I really couldn't put a $10,000 door on a outhouse. Of note, I have since added a date appropriate side mirror too (not included in any of the above kits).
From really good to really awful. The engine bay is EMPTY and had to be helped more than any kit should. After cutting away the stupid plastic piece, I used an extra radiator from another kit and a hose from a 69 GTO – which both look more authentic than the plastic wall that was attached to the body and no hose. From there I used a tri-carb setup even though not available in 1967. So… theoretically this is a 400ci, tri-carb. I could NOT bring myself to put the ugly, stock kit's 4-barrel setup under this hood. It is bad enough that it is so ill proportioned that you could fit TWO engines here and have room left, I couldn't have the lame stock setup as well. The battery and firewall are "OK" and I was done at that point.
The bottom of this car isn't too bad to look at. That is where the "isn't too bad" stops. The exhaust looks decent, but the axle is a flash-infused mess. There is no attach point where the axle meets the frame and the mold is very poor quality. Then there are the holes for the axle-rod. COMPLETELY off center in front AND back. I had to drill new holes altogether to make this work. I thought AMT gave the wrong chassis in the kit to begin with because when I put it together, the tires were rubbing the wheel wells both in front AND back of the car! And, holy crap the tires/rims! You'd think a blind maniac thought this through. The hubs are lousy (both look and quality) and are supposed to reside inside – what appears to be – Jeep Cherokee tires. I'm serious.. these things look as "1967" as a cell phone. Last bit of "really?" has to be the "spikes" on the chassis that attach to the body. These are useful if it were a screw-bottom chassis, but otherwise just serve as something else to glue. I am not a fan of permanent gluing anyways because I've taken kits apart to clean many a-time.
I will NEVER do this car again. And, with that, I can say I DID BUILD IT. I had to add a radiator, radiator hose, intake, tri-carb, valve covers (originals were garbage), side mirror, rear view mirror, rims, tires, axle holes (plastic for drilling), side mirror (didn't come with), directional stalk, front bumper (one from this kit was weathered/faded), two spray cans of paint (too much detail to work with the blue), exhaust tips… and I still could have changed out the front seats (head-rests suck), and the master cylinder (so small you can't even see it). The ONLY model I've had to work this hard getting right was the AMC I did and that was supposed to be a schmuck because it was a "pro stock" model and didn't come with stock pieces. I could say that the "good" side of this model is the price (~$17), but you would have to waste so much time and money making it right, you'd be better off getting a '66 GTO from Revell. It is a TRUE GOAT.
1.5 – R.I.P.