This is a review of the Testors Ferrari GTO kit #221
I was young… really young when I saw a picture of this Ferrari. It was in a book that my brother-in-law gave me for Christmas. I was floored with its look, its speed and its name. This is a kit I've done some four times and I can say, that with a few exceptions, this is a heck of a kit.
There are a BUNCH of 288 GTO kits, but only a few in 1/24(5)th scale. These two above I've NOT done or even seen in person. The Fujimi was typically more expensive and only recently have I found Italari kits to be good.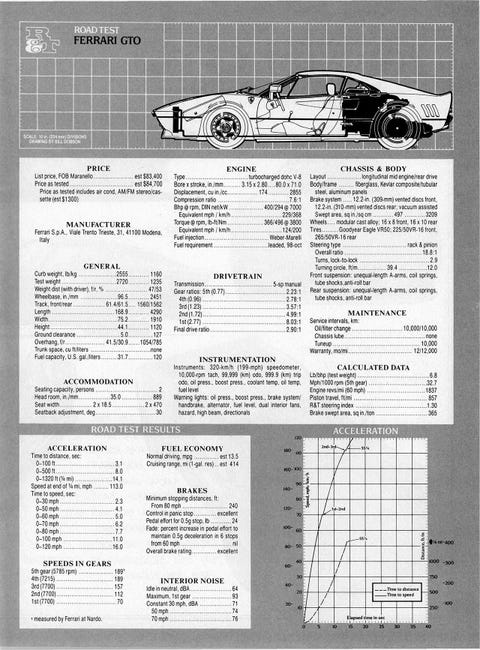 CAR BACKGROUND :: Well, here we are. My absolute favorite car ON THE PLANET. I know I might get a lot of flak about that tid-bit of knowledge, but there it is. Looks just like a 308, right. Well.., no. The 308 design was widened, given fender flares, a bank of large headlamps, and a snarl that is every bit as intoxicating as you'll find. The 2.8 liter V-8 has been twin IHI turbocharged and given a raucous 400 horsepower. In 1984, there was NOTHING on the road faster. With a top speed of 190 miles per hour, the GTO was an amazing leap from the 308/328 regime. R&T (to the left) timed the ¼ mile in a lethargic sounding 14 seconds at 113 miles per hour. The shift point is at 112 for this car and I think gearing was the culprit for the loss of time here. A Motor Trend article during the same time span ran the car to 60 in 5.0 seconds, and through the quarter in a blazing 13.2 seconds. Now, I'll say that there are quite a few cars today that will butcher that, but back in '84, there wasn't much that would be quicker… and nothing that would out-last it. The car was more than just specs, however. The design was done by Pinninfarina and it was a masterpiece. It took the best of the 308 and made it more… more everything. More muscular, more squat, and more aggressive. Inside there wasn't a lot to ogle about, but when the engine climbed to red-line, you wouldn't have cared if you were sitting in a bucket of piranha fish. Glorious.
This is another re-do model build. I've remade many model cars, but this could be the best of them – and not because of the car, but the improvement. I kept a LOT of the other car, but the body's detail is where I improved – using tape to do the black grove through the middle of the car and took more time throughout.
What remained was a true tribute to the car's glory. The Tamiya Italian Red came out just fabulously. The original red I used – I believe – was just a Testors "red" and it was NOT a good paint job at all. The paint seemed to not cover the red molded plastic for some reason and it looked very flat. The only "fix" I did with the whole car were the exhaust tips.
I didn't try to do any photography for the interior as this kit has 360 degrees of glass and trying to make out anything with a photo becomes folly. I can say that the interior looks correct, has most of what you need, and has good ridge detail. The instrumentation is a bit on the light side, but looks very accurate.
The engine is another story altogether. The twin-intercooled V-8 looks like something out of a sci-fi movie and is nicely detailed. There are enough parts to make anyone happy and it all fits very easily to the chassis. The lid is a bit of a mess, however, as you have to cut it out and then add four tabs to hold it in place. It would seem Testors could've done a better job getting it in place, but when it's done, it looks damn good anyways.
I don't usually do underside pics of newer cars, but the GTO shows off a lot of detail from below. The pieces fit easily and it looks pretty tidy. I added tips off some other exotic kit (as the ones for this car were weak-kneed) and I think it helped the look a lot. One thing of note : the tires look great and are very textured, but over time can split BADLY. I had two from the last one I made split so badly, one was 7/8 ripped and the other had fallen off the rim completely! Not all tires will do this, but these did for some reason, so beware.
They say never to drive your heroes and I can happily say that doesn't apply for building em. This is a honey of a kit and doesn't have the typical fit/finish issues that some exotics have. The side mirrors are grey (instead of the red that like the other body pieces); the tires can be explosive; the full glass makes the interior all but useless; and the growing cost will make you think twice. It is still a really good build. With numbers thinning more by the day, it should make an excellent investment too. You know what I'd do.
9.0 Excellent