This is a review of the Revell Ferrari Enzo Kit#85-2192
The Enzo is one of the newer Ferraris that I've come to really like and it is more than the grandness of its namsake. This kit is one of the most difficult kits I've built for a number of reasons, but the end result is usually so good, that I have made it 3 or so times.
Unlike some cars, the Enzo has been done in enough ways that you can truly pick your poison on difficulty and detail. The snap kit is very plain and plastic-y looking; the Revell is difficult goodness, and the Fujimi is – from what I've seen in other kits – the peak of design and quality. For those who want it all, the Revell Ferrari pack has three of the best Ferraris ever produced – the F50, the 360 Modena, and this Enzo.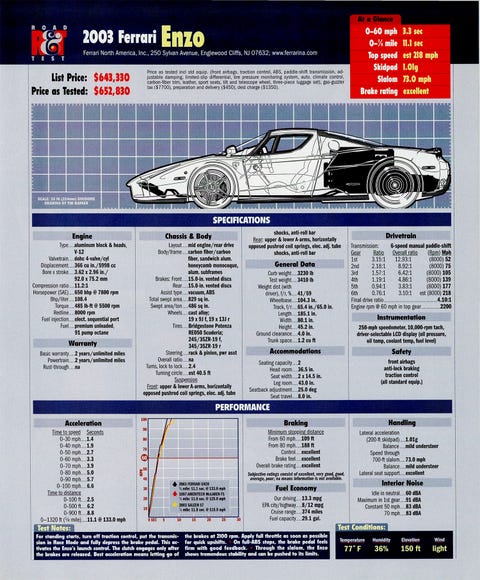 CAR BACKGROUND :: The idea was simple – build a car that is as good as Ferrari has made in its history. Yeah, easy. We're talking about a company that has made the Testa Rossa (no, not the 1980s version), 250 GTO, Daytona, 512BB, 308, 288 GTO, and F40. There was a great deal of history to overtake.
Overtake them it did.
The Enzo and its 650hp became the quickest production car that year and with its 218 mph top speed, it was amazingly fast as well. Granted at well over the $650k listed on R&T's sheet (because of dealer markups), it had enough coin thrown into it to possibly fly to Mars. It was more than the sum of its speed, however, as it contained more tech than just about any car to that point. Yes, it is a bit of a clod next to the LaFerrari, but in 2004, you'd have been hard pressed to find something more tech heavy and as fast. Today it remains one of Ferrari's greatest achievements and easily one of my favorite exotic cars. Awesome.
Tamiya Italian Red didn't fail yet again and came out splendidly. The body has quite a few pieces you'll want to attach before painting, so pre-read the instructions.There is also an amazing amount of glass to potentially ruin the build, so be extra careful not to over glue the clear parts. Thankfully the kit is amongst the cheapest in the model kingdom, but it still takes the wind out of sails to muff the glass while finishing up.
Most frustrating thing about this kit is the rear hatch. It fits well in some of these kits and atrociously in others. It is also a pain in the a$$ to bend into the correct shape as there are multiple merge points to the car body – so where one works well, the other is still off.
I didn't bother too much with an interior pic because the Ferrari's dash is sunk in, black, and the car has a window the size of a peanut. Safe to say it is a marvelous set of detail – thanks to Revell.
The engine bay is amazing. The V12 is super detailed and has dozens of parts to put together. I'd not be surprised if there are as many here as some older Jo-Han kits' full compliment. It isn't without its drawbacks, however. The exhaust is a futility in making correct. The ports on the side of the block line up for the first piece, but the second piece is impossible to figure out and that makes the third piece even tougher for placement.
Thankfully most of it isn't showing, so you can fudge it together fairly well anyways, but it is NOT a good design. After you get it close, you then realize the damn thing is in the way of the motor mounts. If I ever want a yellow or white Enzo, this engine and chassis is going to be reused – guaranteed!
The underside of the Enzo is flat and unimpressive. It is amazing to see a flat-bottomed car that isn't a toy design, but it is just boring flat black.
This is NOT a perfect model kit, but as I mentioned above, it is amazingly cheap. You can get 2 or 3 of these nowadays for the price of many other Ferrari kits. The hatch is a tough fit; the exhaust is tough to work out; there's a good bit of glass to ruin; there's a lot of black trim to do; and the mesh for the vents is a lesson in patience-breaking cut work. At roughly $11 a kit, however, you'll have three or four to work on to get it right!
7.0 Average